Investment opportunities may fall into two broad categories:
1. Investing in the technology and supply chain of the quantum computing industry.
2. Investing in companies that are early adopters and users of quantum computing power.
The first category is an early but active opportunity, while the latter category will develop as the technology advances.
Public markets
In a seeming paradox, the investment landscape for quantum computing in the public markets is both narrow and broad. Opportunities for investments in public companies building quantum computing technologies (hardware or software) are generally limited to a few large companies today. However, thinking forward to the possibilities as quantum computing is commercialized, many companies across industries will face significant and potentially swift changes in the competitive landscape.
Most of the companies attempting to build and research quantum computers in the publicly traded markets are large, brand-name technology companies including Google, Amazon, Microsoft, IBM Honeywell, Baidu, and Alibaba, among others. While many of these companies are making significant capital investments in this segment of their business, it is not a driver of revenue for them today. Stock prices for these companies are likely more tied to revenue and expectations for their market-ready business segments, and as such the drivers of return for investors are not likely to be tied to quantum computing advancements in the near future.
There are two publicly traded pure play companies, Quantum Computing Inc. (QUBT) and IonQ (IONQ). The former has a market cap of less than $200m and has reported no revenues. The latter recently went public through the acquisition of a Special Purpose Acquisition Company (SPAC), and today trades at a valuation of more than $4 billion despite the expectation that they are years away from a competitive product.
There is clearly already excitement about the possibilities, and as the technology hurdles are cleared and these computers become scalable to solve real-world problems, we expect the opportunities to invest in public companies delivering value in this space could change rapidly.
Looking ahead, the implications for investors are much wider than just those companies involved in the production of quantum computers. We would expect many industries to become users of quantum computing power. Those that are first to adopt may benefit from significant competitive advantages, while those that lag may find themselves on their heels in a rapidly changing environment. We believe this type of change will present opportunities to thoughtful and engaged active managers.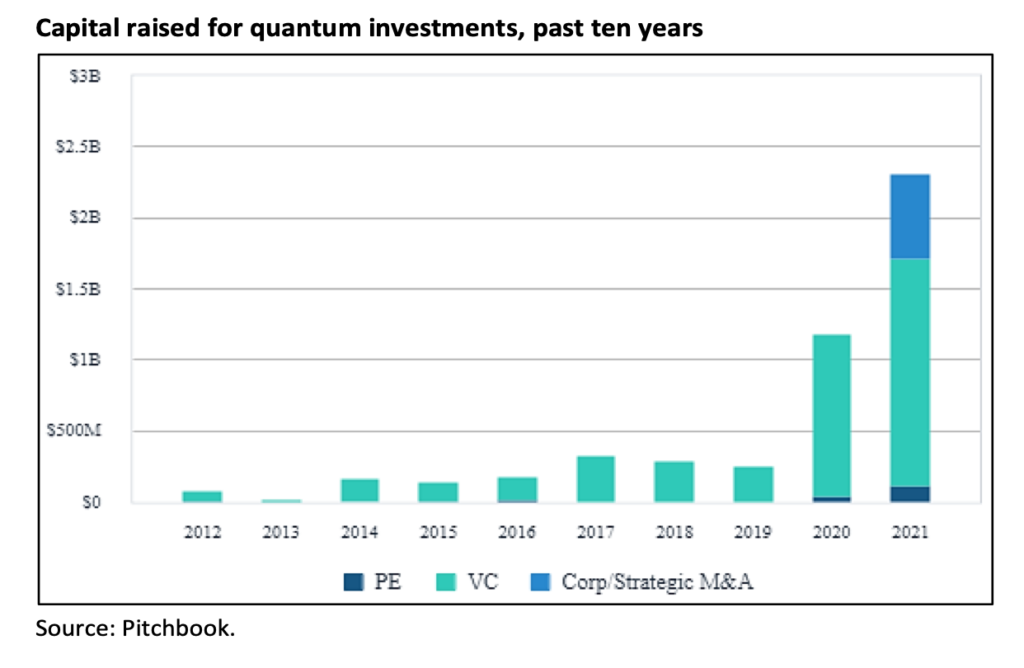 Private markets
Within the private markets, the opportunity set is fast developing. Certain private market investors are accelerating the pace of change by actively investing in companies that are developing quantum-related technologies.
In the first nine months of 2021 alone, fundraising for quantum-related companies eclipsed the total activity over the prior three years in aggregate. There have been two $100m+ capital raises by companies developing quantum computing technologies. The volume and magnitude of deal activity, diverse nature of the active investors, and geographic dispersion of the deal making are all notable.
It is not surprising that the pace of deal making in the space has accelerated meaningfully over the past two calendar years. The earliest-stage bets that investors placed over half a decade ago are maturing and early winners are beginning to emerge. These emerging leaders are actively proving out the feasibility of quantum technologies across various applications, while simultaneously building the foundation on which many other solutions providers will operate.
The range of active investors is also notable. Given the advances made in the past five years or so, there are now select later-stage opportunities attracting large institutional investors. For example, in 2021 BlackRock led a $450m fundraising round for PsiQuantum. The round was closed at a $3.15 billion post-money valuation. Other large later-stage investors such as Tiger Global, SoftBank's Vision Fund II, and Baillie Gifford all participated in at least one quantum-related deal during the year. Corporate investors, e.g., Amazon Web Services, Airbus Ventures, and Samsung NextVentures, similarly ramped participation during the year.
Those select later-stage deals notwithstanding, much of the deal activity continues to be at the early-venture stage and involves significant technology risk. The relative nascency of the space currently affords investors a limited number of sizable opportunities. Accordingly, pure-play venture or private equity funds are few and far between.
While large investment firms and strategic corporations have made select investments at the large end of the market, state-owned or related enterprises continue to be the most prolific deal makers in the realm of quantum technology. According to data from Pitchbook, the top three most active investors include Innovate U.K., the U.S. National Science Foundation, and the U.S. Department of Defense. Each is a government-related entity. Other incubator programs trail close behind as the next most active set of investors. While the data available indicates that Western nations are leading the private investment charge, we recognize that much of the activity globally, particularly in nations such as China, is likely not captured in the datasets that we reviewed.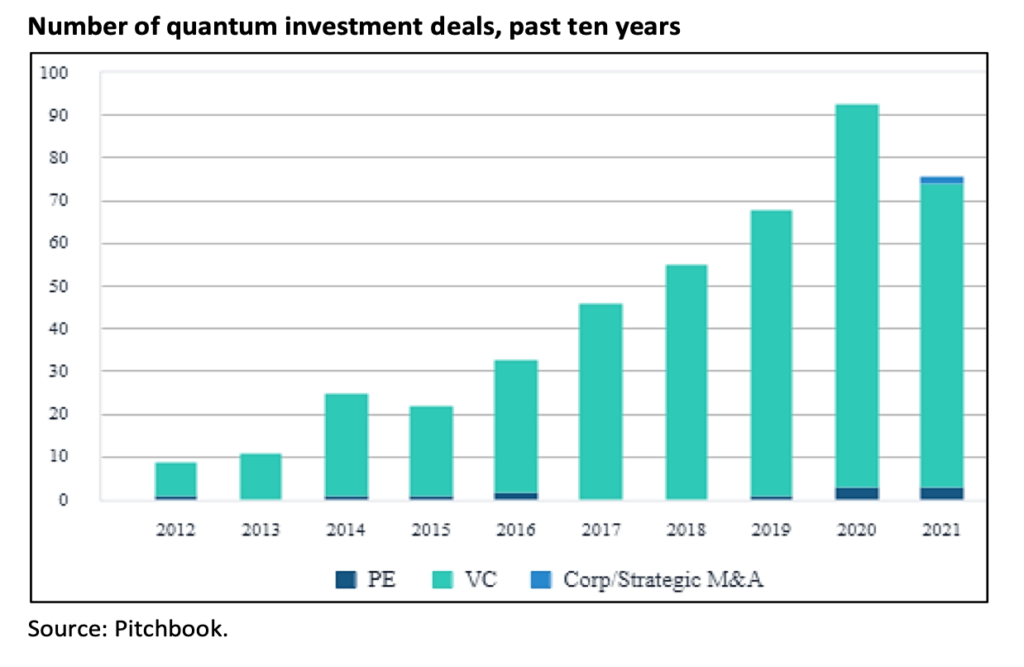 Pathstone's approach
While the impacts quantum computing are real and far reaching, the opportunities to invest directly in this space are nascent, though growing. Our approach broadly is to position our clients with investment managers who apply critical forward-thinking research in the selection of their investments and construction of portfolios. Conducting this primary research ourselves and drawing from expertise in the field better positions our due diligence team to evaluate how investment strategies might perform or adapt as this technology develops.
Within public equities this means we prefer active managers that research and evaluate trends and are able to quickly forecast and adapt to changing market dynamics. On the private investment side, where investment horizons are long, we continue to partner with managers who possess deep sectoral expertise and keen eyes for innovation, and who we believe have the foresight to understand potential disruption and prudently allocate to select opportunities in emerging themes.
This article is one section of the report, "Quantum Impact — The Potential for Quantum Computing to Transform Everything." Click here to learn more and access the full report.