Traditional economic data releases are available with a lag and in such a rapidly changing world, we know they do not always capture the true picture of the current situation. Higher frequency measures may provide a more accurate reflection of the current situation.
In this note, our aim is to highlight some of the higher frequency data we continue to review as a complement to our traditional U.S. Market Cycle Dashboard. We believe this data serves as a gauge into investor and consumer activity and can provide a signal of improving or deteriorating sentiment as we travel down the path towards economic recovery.
Historically markets don't wait for the "all clear" signal before discounting a more optimistic future.
While the factors tracked below may not be leading indicators, we believe that they may be timelier in confirming that the world is heading back towards "normal," particularly as equities have already bounced significantly off of their lows experienced on March 23rd.
By monitoring real-time activity data, we aim to keep our finger on the pulse for how quickly the real economy is trending back to more normal levels. We will continue to monitor these data points in the weeks and months ahead to get a sense of how sentiment is shifting despite the ongoing challenges the current state of the world presents as well as gain insights into how consumer behavior may be changing.
The S&P 500 has rallied over 67% from the March 23rd low, climbing to new all-time highs in December. Year-to-date the index has returned over 16%, though there has been wide dispersion in performance between sectors. Tech has been the clear winner and has held its lead as the best performer, with consumer discretionary not far behind. However, with the recent news of successful vaccine trial results performance has shifted in favor of the more cyclical oriented sectors, which have driven index gains over the past few weeks.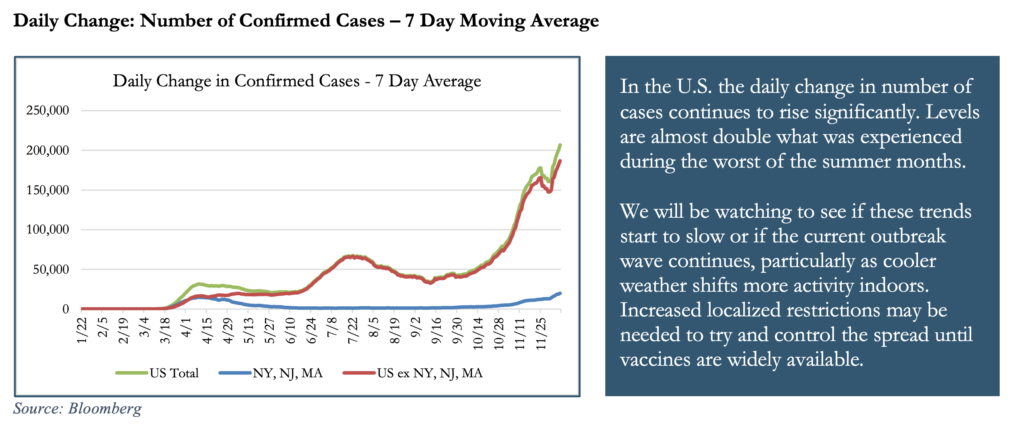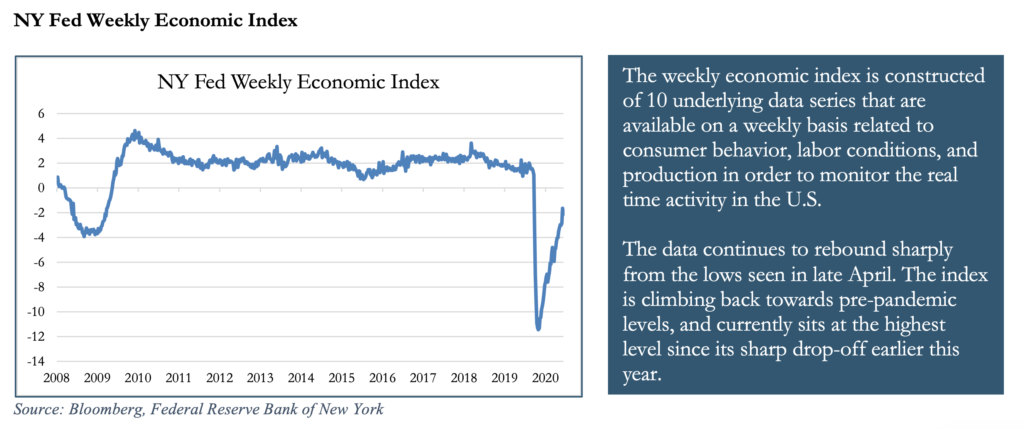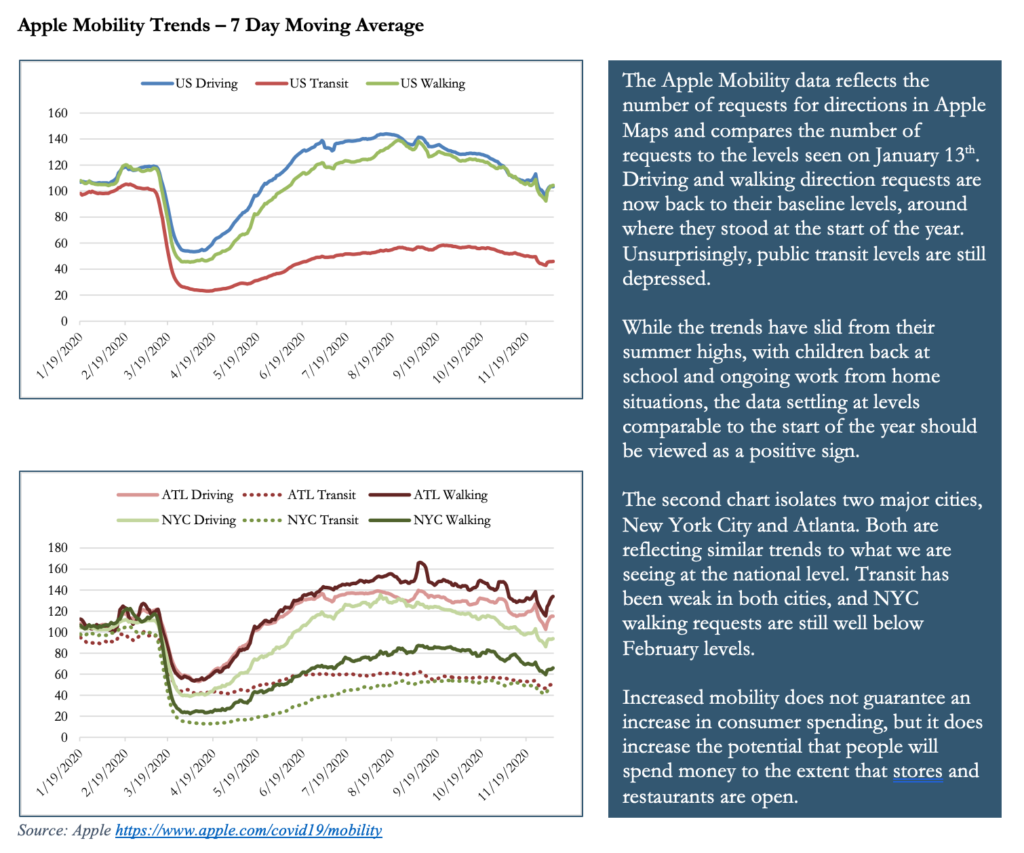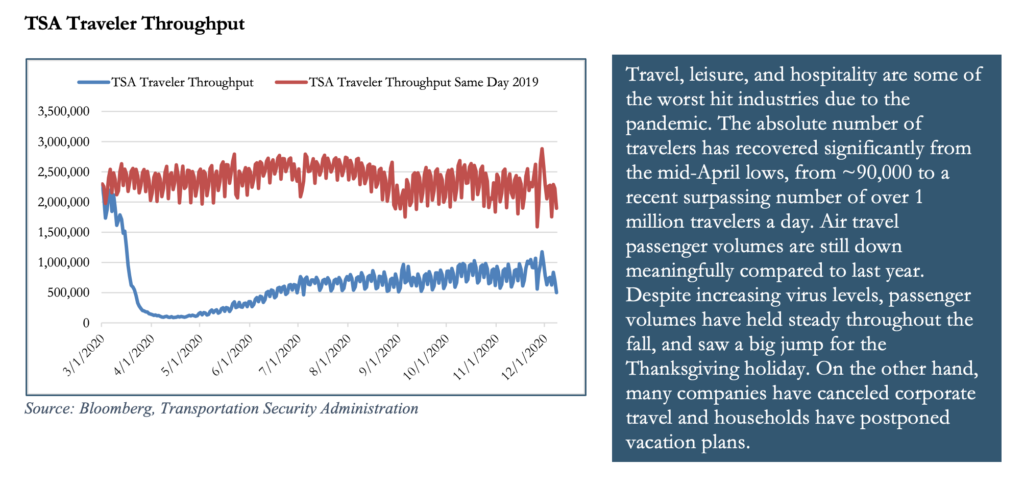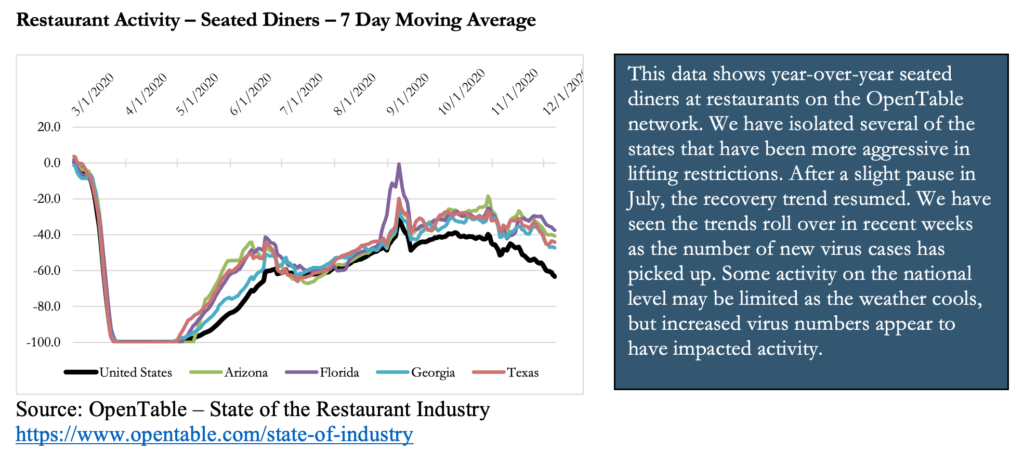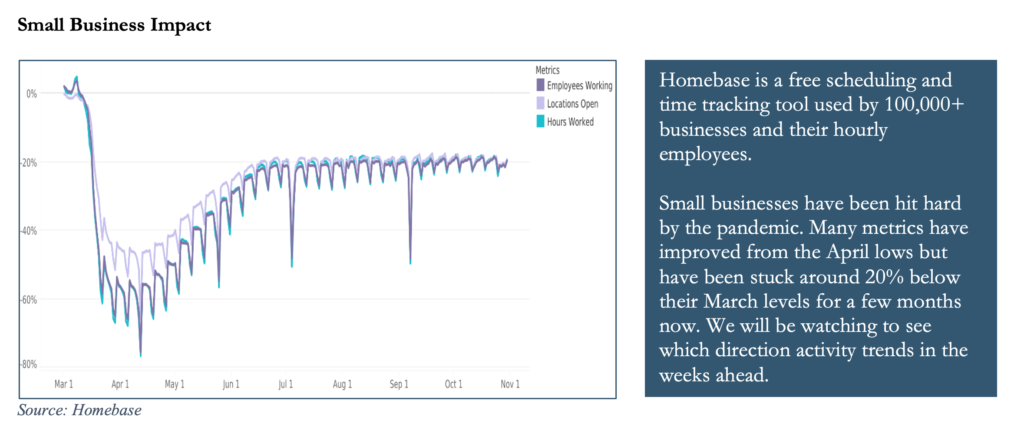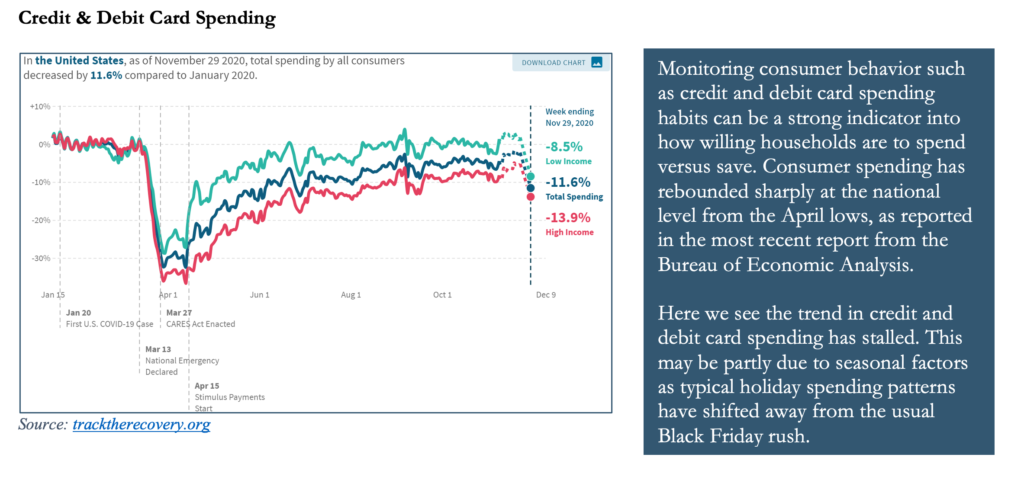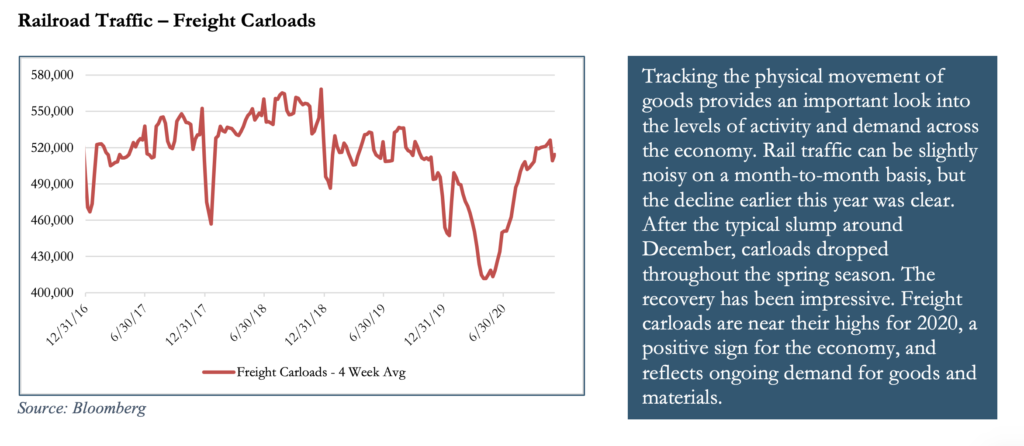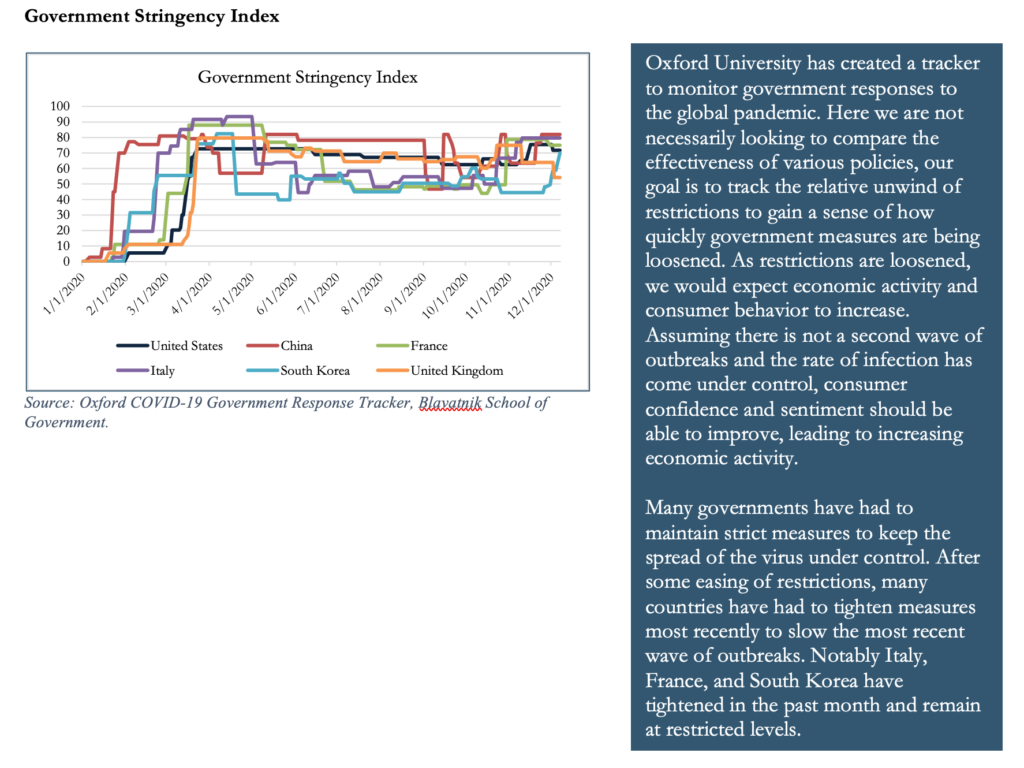 Covid-19 Vaccine
Positive vaccine developments comes just in time to lift our holiday spirits, as we are all eager to leave the challenges of 2020 behind. Emergency use authorization for the Pfizer-BioNTech vaccine candidate has been approved (result pending) by the F.D.A., and distribution is anticipated to begin by mid-December for essential workers and the most-at-risk portion of the population. Approval of the Moderna vaccine is predicted to arrive before long as well. In the meantime, the pandemic is still surging and there are still many challenges to overcome near-term while we wait for enough of the population to become inoculated and a more complete economic recovery takes hold.
Widespread distribution of both the Pfizer and Moderna vaccines are expected by springtime, and both vaccines will be made available for free to the American public. These positive developments extend optimism that a return to "normal" is not far off, however, government restrictions and consumer concerns may weigh on the recovery over the next few months as we have seen rising case counts in recent weeks slow economic activity. Several of the data trends we monitor closely have moderated in recent weeks, with both seated diners at restaurants and airline travelers down over 50% compared to year ago levels. Impressively the number of job openings on indeed.com continue to recover. True to the current environment, hospitality and tourism related job postings have declined the most, while construction, loading & stocking, and driving job postings are all above last year's trend – reflecting the changing preferences of holiday shoppers towards e-commerce and away from traditional brick and mortar retailers, and the ongoing strength of the housing market.
Kicking off this holiday season we have a lot to be thankful for, and while this year's holiday celebrations are, sadly, unlikely to mirror past years, perhaps the most exciting news is that we have made it to the homestretch of 2020 and the prospect of a vaccine permits us some optimism for 2021. As we reflect on 2020, we are grateful for all of the clients that entrust us to guide them and for all the individuals that make up the Pathstone team, including our new teammates in Washington, Texas, and Alaska. The Pathstone culture, processes, and tools that have been built over the years were tested in this most extraordinary of years, and we are delighted with how our business was able to function facing these challenges.
For much of this year it has felt like the risks well outweighed the prospects for markets and the economy. Since the end of the third quarter alone we have faced a polarizing election, growing virus counts, fading prospects of renewed fiscal stimulus, and new localized lockdown measures. As our routines were upended and we were forced to adapt to life with restrictions, we relied on the investment processes we have built, supported by our U.S. Market Cycle Dashboard, Stress Tests, and Capital Market Assumptions in order to navigate the challenges of this pandemic-stricken year.
Markets have reacted favorably since early November, though despite the positive vaccine headlines, we recognize that we are not totally out of the woods yet. Virus case counts continue to rise, and holiday gatherings may exacerbate the situation over the near-term as Covid fatigue kicks in. There is still some hope that additional fiscal stimulus may be enacted in the U.S. before year-end. While there may be setbacks along the way, we see there is a brighter future once we cross the bridge to the other side of the pandemic. We are all looking forward to gaining some freedoms back in 2021 and wish everyone a healthy, peaceful and relaxing holiday season!
Please see the PDF version of this article for important disclosures.