Equities rallied further in May, helping to recover more of the lost ground surrendered to the coronavirus earlier this year. Optimism around stimulus and easing government restrictions fueled the rally, and volatility has settled down from the March extremes.
Mega-cap U.S. tech companies have dominated market returns so far this year. However, May showed signs of a shifting trend as smaller companies and more cyclical areas of the market were the top performers.
While economic data is not pretty and broad activity is still depressed from previous year's levels, trends are starting to indicate that the worst may be behind us if economies can successfully work through re-opening phases without a second wave outbreak.
Stimulus measures are helping bridge the gap in the meantime. Monetary and fiscal stimulus worldwide has stepped in to steady markets and offset lost wages. Recently Japan has proposed an additional $1 trillion and the European Commission an additional $2 trillion towards the recovery effort.
Resurfacing are the tensions between the U.S. and China. China has taken action to remove Hong Kong's autonomy sparking additional uncertainty regarding future relations between the countries, on top of concerns there may be retaliation by the U.S. for China's role in the coronavirus outbreak.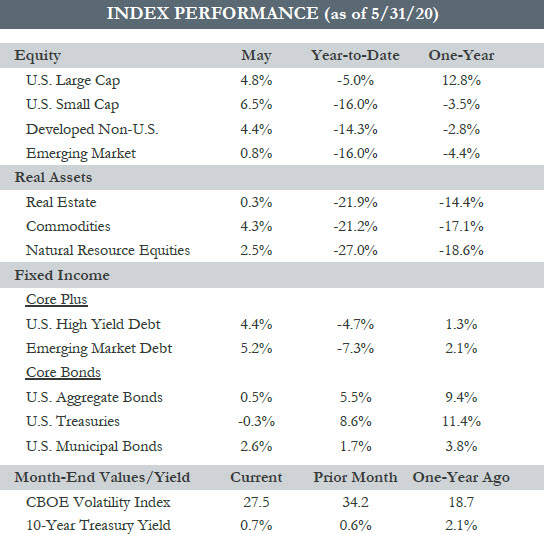 Please see the PDF version of this article for important disclosures.