Key Takeaways
Markets in July bounced back dramatically after poor performance in June. The S&P 500 and the tech heavy NASDAQ had their best month so far this year returning +9.2% and +12.4%.
Growth significantly outperformed Value during the month as sectors like Technology and Consumer Discretionary, which had been lagging, rallied. The S&P 500 Information Technology Index was up 13.5% and the S&P 500 Consumer Discretionary Index was up a massive 18.9% for the month.
After being up 6.5% in June, Chinese equities were down -9.5% in July and dragged down the entire Emerging Markets index with them. EM Latin America and EMEA countries were up +4.3% and +3.5% for the month.
Despite increasing the Fed Funds rate 75 bps at the end of June and July, bonds rallied as well. U.S. High Yield, Treasuries, and Munis all had their best month of the year.
372,000 jobs were added in June which beat estimates of 265,000. Average economists' estimates are showing that 235,000 jobs will be added in July. The June Jobs Report is really what drove markets in July and kept the momentum going even after a poor and negative Q2 GDP print and higher than expected inflation. The QoQ annualized figure for Q2 GDP came in at -0.9% and CPI moved to 9.1% YoY.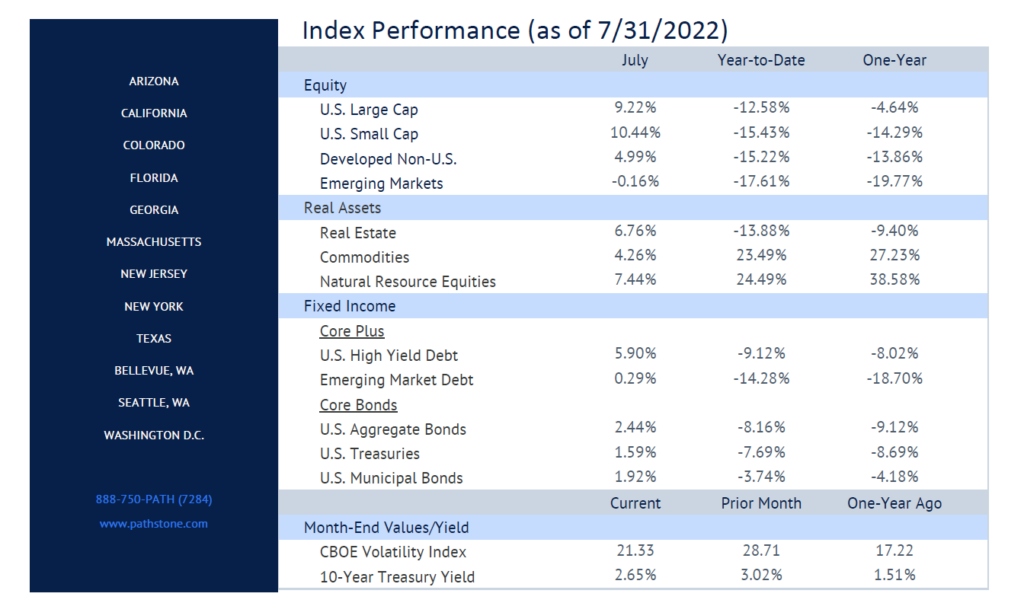 Please see PDF for important disclosures.