Key Takeaways
With investors entering the final month of 2019, gains across all asset classes have been impressive so far this year. The S&P 500 has advanced to new highs and large cap growth companies, as represented by the Russell 1000 Growth Index, are up a whopping 32%.
Trade deal optimism has certainly been a driving force behind the market's advances, boosting investor sentiment, as reports indicate the U.S. and China have made strides towards a Phase 1 trade deal.
Outside of the U.S. equity returns have been equally as impressive in local currency terms. Markets have largely shrugged off weak economic data in Europe, and many European indices sit near one-year highs.
Yields inched up slightly in November, but the 10 year Treasury yield still sits 1% below its level at the start of the year. Core bonds fell somewhat over the month, while municipals squeezed out positive returns.
Economic data around the globe continue to reflect signs of slowing growth and sluggish manufacturing activity. Inflation pressure in the U.S. remains muted, and with that, the Fed is expected to hold off on any further monetary policy changes through the end of the year.
As protests continue, U.S. relations with Hong Kong could upset the Chinese government and create a snag in trade progress. The impeachment process is ongoing and Brexit deadlines are once again approaching. Don't be surprised if there is an increase in volatility over the final weeks of the year.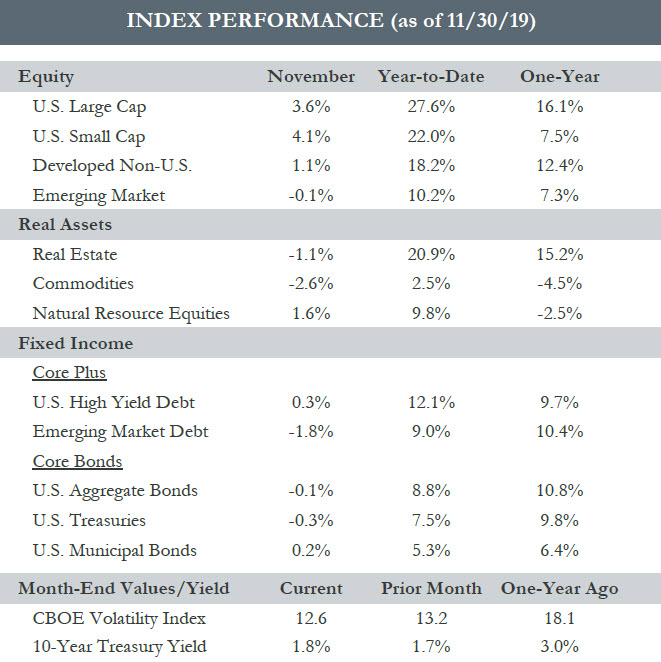 Please read important disclosures in the PDF version of this article.