Key Takeaways
2022 has been a difficult year so far for investors as equities and bonds have sold off. Fears of prolonged inflation, rising rates, and the war in Ukraine have left investors feeling anxious. The one bright spot this year has been Commodities and Natural Resource Equities, gaining 26% and 29% respectively. Bans on Russian oil and other commodities have led to sky-high prices.

The S&P 500 suffered drawdowns in January and February but has rallied the last few weeks of March. The S&P 500 is down 4.60% YTD but was once down over 12%.

Core bonds had a negative quarter as interest rates rose. On a trailing 12-month basis the U.S. Aggregate, Treasury, and Municipal bond indices all had negative returns. Short duration has been the safest place for investors to be within fixed income in 2022.

Volatility in markets has dropped substantially since the onset of the invasion of Ukraine. Investors are speculating that the war will not be as protracted as once anticipated and are encouraged by the global response.

The yield on the 10-year Treasury rose 0.76% in March and now sits at 2.59% which is the highest level since 2019.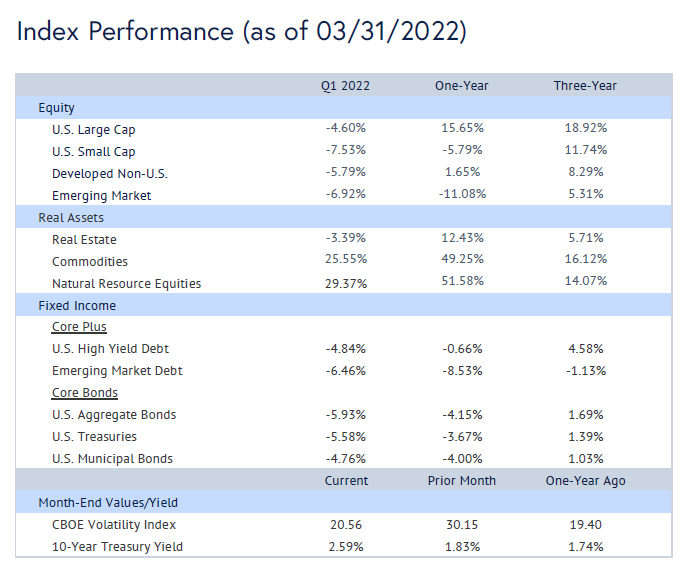 Quarterly Commentary
• The situation in Ukraine will likely have ripple effects across the globe. Commodity prices have risen due to sanctions against Russia. We believe that the U.S. will be well-positioned compared to past crises if this war is more prolonged than anticipated. U.S. consumers spend far less of their income on food and energy than in the past and the U.S. is now a net exporter of oil and therefore less dependent on other countries for energy.
• In terms of Covid-19, the world is in a much better place than we were 1 year ago. We not only have vaccines but treatments that have dramatically cut down the number of fatalities. We have seen hotel occupancy and flights get within 10% of pre-pandemic levels while dining reservations are ~3% off pre-pandemic levels. The world, for the most part, is opening again which is good for businesses, supply chains, and investors.
• Despite everything that has happened and going on right now, U.S. Real GDP is still in line with its long-term growth rate. The U.S. economy added even more jobs in March (431,000) and the unemployment rate dropped to 3.6% as the labor market continues to tighten. There are over 11 million job openings and less than 6 million people unemployed in the U.S. keeping upward pressure on wages.
• The CPI rose to 7.9% YoY in March, which is the largest increase since the early 1980s. Energy commodity prices are a major contributor to the heightened level of inflation we are currently experiencing. However, inflation should start to slow as the Fed raises interest rates.
• The Fed raised the Fed Funds Rate by 25 basis points in March, the first rate hike since 2018. Fed policymakers expect the Fed Funds rate to climb to around 1.9% by the end of this year and 2.8% by the end of 2023.
• Oil Prices spiked to $123.70 per barrel in mid-March due to the ongoing conflict in Ukraine and then dropped to $100.30 at the end of March. President Biden has announced the potential release of 1 million barrels of oil per day from the U.S. Strategic Oil Reserve and is pressuring oil companies to lower prices for consumers.
• Our U.S. Market Cycle Dashboard sits in bullish territory indicating the likelihood of a recession over the near term is low.

Please see the PDF version of this document for important disclosures.