While you enjoy a tax deduction and possibly an employer match immediately, the next benefit comes from not paying taxes on earnings until you withdraw money from the plan. Meaning that if you use your 401k as intended, then no taxes will be paid on plan investments prior to drawing on the account at retirement.
In addition to the 401(k) plan, a variety of retirement savings accounts exist to cater to individual needs and circumstances.
 Other Retirement Saving Accounts
Individual
Traditional IRAs
Roth IRAs
Self-Employed & Businesses
SEP IRAs
Simple IRAs
Roth 401k's
Setting Retirement Goals and Answering Questions
Now that you know the tools available to you, what retirement savings goals should you set for yourself? To get a clear answer, you first need to know the right questions. The first two questions you should ask yourself when coming up with a goal are:
When will I retire, and will I ever retire completely?
What kind of life would you like to live in retirement, and what does that look like in spending?
These may be more difficult to fully answer, especially for those just beginning to save for retirement, but thinking about it earlier can help guide behaviors to achieve those savings goals. Once you have these answers, there are many retirement calculators (see below link) available which can demonstrate the optimal savings goals for you. Other ways include using your starting salary as a key data point and suggesting multiples at certain milestone years, such as trying to save 1x your salary by age 30, 3x by 40, and so on. Having that data provides a helpful benchmark and guide to move forward.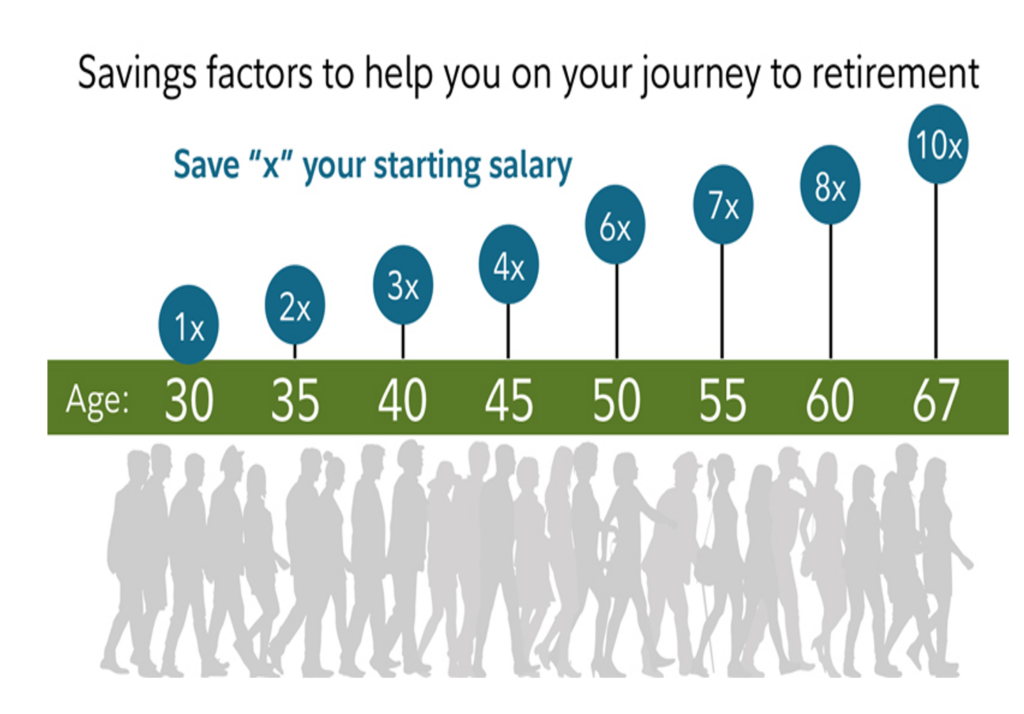 Understanding Compounding
Compounding is the generation of earnings from your investments, which then earns on itself when reinvested. This means that your savings creates more savings over time which will help fortify a financially stable retirement. Albert Einstein called compound interest the "eighth wonder of the world" as a compliment to its strength. Compounding is one of the strongest incentives to begin saving for retirement as early as possible. Doing so enables you to fully harness that power for as long as possible. In the image below, you can see just how powerful compound interest can be especially, in the long run. At a certain point, your interest overtakes your contributions as the primary source of your investments. This is all thanks to the magic of compounding!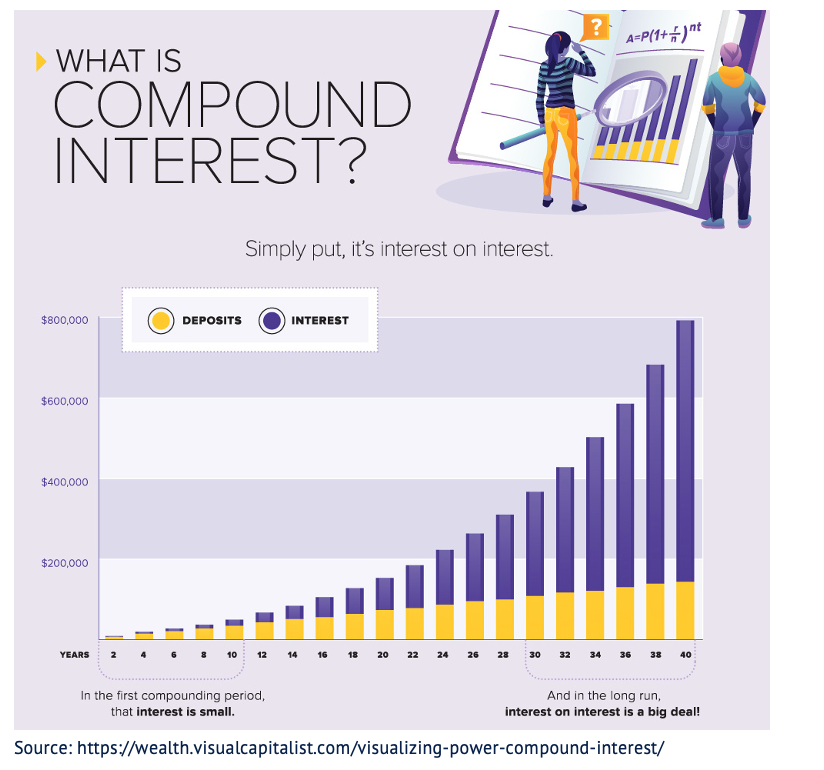 Remember that paying yourself first through plan contributions and starting early will bring your vision of retirement to life. There is no shortage of tools to help you get to the place you envision. If you are curious to see if you can be doing more for your retirement, please contact us at Pathstone and let one of our advisors help you create the path toward the future you imagine.
We are here to help – if you have any questions or would like to discuss your savings goals, don't hesitate to contact us.
Please see the PDF version of this document for important disclosures.