Trade wars and falling interest rates dominated investment headlines in August, as Presidential tweets seem to be the source of more short-term volatility. Equity prices fell, as investors grew anxious over increasing trade conflicts and concerns about slowing global growth.
Despite the down month, the S&P 500 is up an impressive 18% year-to-date and closed the month within 4% of all-time highs. U.S. Large Caps continue to outshine their foreign counterparts. Safe haven assets, such as gold, have caught a bid recently. Gold prices increased by over 7% in August.
The most dramatic move during the month was the fall in interest rates. Global interest rates continue to fall further into negative territory. The 10-year Treasury yield dropped from 2.0% to 1.5% in August, resulting in core bonds delivering the best performance for the month. The swift fall in longer term interest rates left the yield curve inverted between the 10-year and 2-year rates.
Markets are pricing in a near certainty of another rate cut by the Fed at the September meeting, and investors will keep a close eye on the Economic Projections released for further clarification on the outlook of monetary policy.
Uncertainty over trade, Brexit, and protests in Hong Kong is likely to continue dominating headlines and fueling volatility over the near term.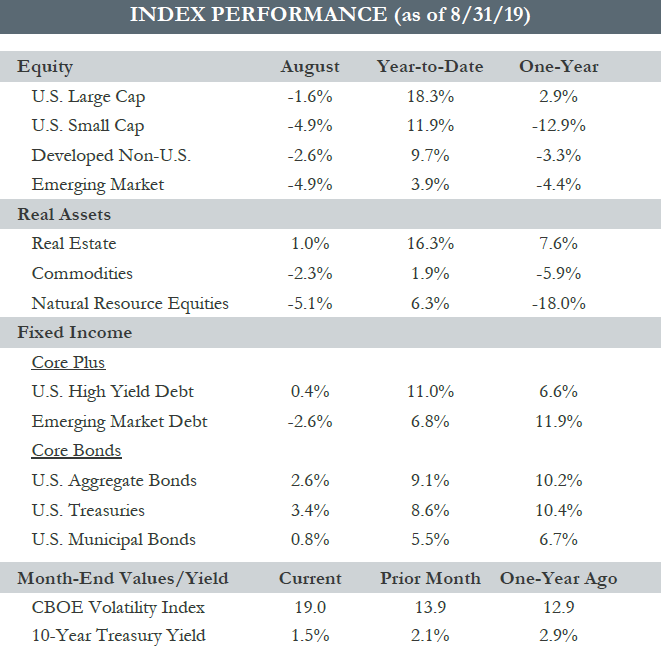 Please read important disclosures in the PDF version of this article.