Key Takeaways
An impressive quarter capped off an exceptional year, as nearly every asset class advanced in 2019. Gains were widespread, though U.S. large cap equities continued their reign with the S&P 500 closing the year up 31.5%—the best calendar year for the index since 2013.
Recessionary concerns lessened during the quarter and a risk-on rally ensued, lifting emerging market and small cap equities the most. The U.S. dollar weakened against major currencies to finish the quarter 3% lower.
Core fixed income returns were modest over the past three months, while more credit-oriented investments benefitted with the increased risk appetite as credit spreads narrowed throughout the quarter. Falling interest rates during the year led indices to attractive twelve-month returns.
Markets reacted favorably to the news of progress on the Phase 1 trade deal between the U.S. and China. The White House canceled tariff increases that were scheduled for December, and both sides have agreed to begin rolling back some of the tariffs already in place. An official signing of the agreement is expected to take place on January 15th.
Longer-term there is still a ways to go to clear up the remaining pressure points of intellectual property rights and forced technology transfer. Trade and geopolitical tensions are likely to remain in the headlines for some time.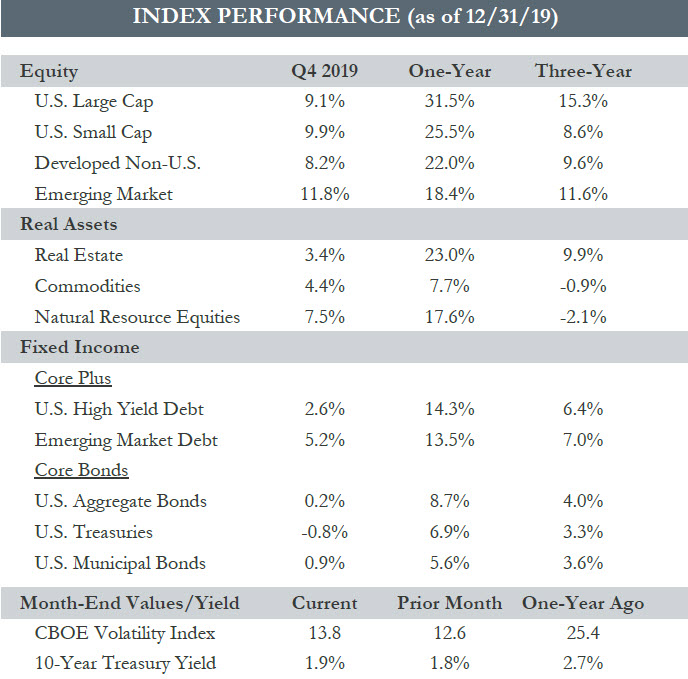 Quarterly Commentary
The S&P 500 powered to all-time highs in 2019, as the changing tones of trade and monetary policy helped drive the narrative and push markets higher. Improved risk appetites allowed markets to advance primarily on the back of multiple expansion as corporate earnings growth was subdued throughout the year.
Economic growth moderated around the globe, and Central Banks responded accordingly. The Federal Reserve reversed its tighter policy actions from the previous year, cutting interest rates three times. Trade tensions ebbed and flowed, but ultimately the year wound down on notes of progress between the U.S. and China with a pending Phase 1 trade deal in place.
2019 represents a good study on how quickly sentiment and narratives can change within markets, and how market prices and fundamentals don't always move together.  Equity markets still managed to post blowout returns in a year of mediocre economic growth.
Pessimism at the start quickly shifted to optimism, as Fed rhetoric turned dovish and markets recovered from the Q4 2018 sell-off. After a more than 13% rally for the S&P 500 in Q1 alone, investors began to question how much more upside there could be. Over the summer, with trade tensions on the boil and uncertainty looming, market prognosticators began forecasting an oncoming recession and volatility perked up. However, a shift in moods this fall saw a return to optimism as some of the clouds started to clear; Brexit and trade progress removed some of the most worrisome overhangs.
Disciplined investors were rewarded while investors with a nervous hand would have missed out on impressive gains. The most challenging obstacle to success in 2019 was staying invested regardless of the noise.
Pathstone's U.S. Market Cycle Dashboard continues to register a positive reading. With heightened volatility and significant headline noise anticipated to persist, sticking to a disciplined, unemotional investment process will be critical for continued success.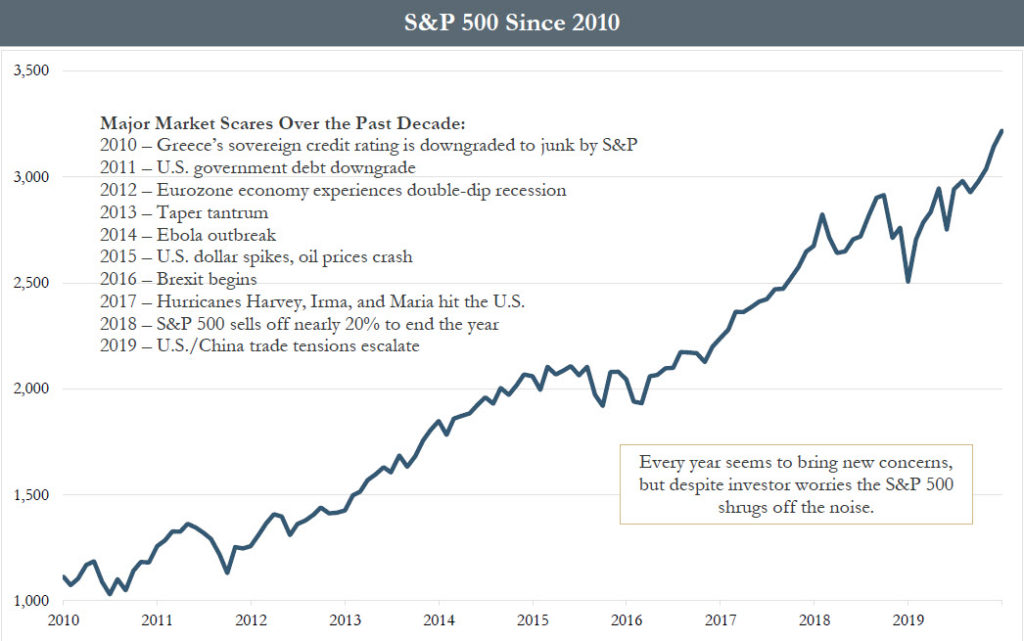 Please read important disclosures in the PDF version of this article.