Key Takeaways:
The month of February closed with a positive note as another vaccine approval lends hope that the pandemic may be winding down. Johnson & Johnson's one-dose vaccine adds another tool to the arsenal to help ramp up the vaccination effort.
From a market perspective, rising interest rates stole the show towards the end of February as the yield on the 10 year Treasury briefly surpassed 1.5% ― the highest level since the start of the pandemic ― before ending the month around 1.4%.
A more optimistic growth outlook and the anticipation of rising inflation have driven interest rates higher. More stimulus appears likely in the weeks ahead as Congress negotiates the latest relief package targeting direct payments and extending unemployment benefits.
Equities were largely able to shrug off the rapid rise in rates, closing the month with positive returns but not without some added volatility along the way. Small caps continue to lead the pack, returning over 11% so far this year and an impressive 51% in the past twelve months.
Commodity prices have also gotten a boost, driven by supply constraints with the recent cold spell in the U.S. and an increased demand outlook with better economic growth anticipated in the months ahead.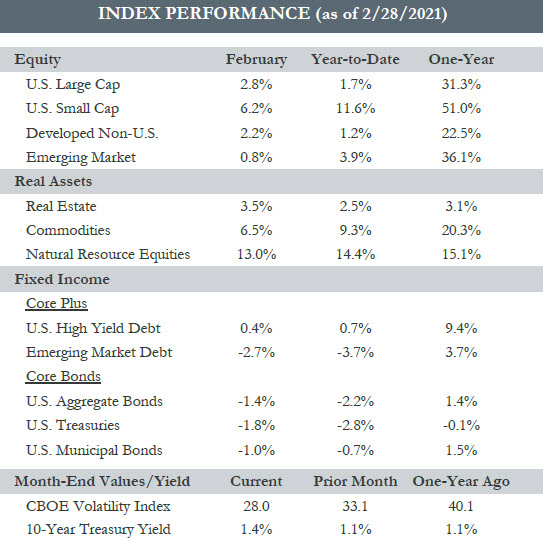 Please see the PDF version of this article for important disclosures.