Key Takeaways
2023 started off great after a dreary 2022. The S&P 500 was up +6.3% and the tech heavy Nasdaq was up +10.7% for the month. Fixed income markets rallied as treasury yields pushed lower.
Small caps broadly outperformed large cap equities. Consumer discretionary and telecom sectors led U.S. equity performance. Utilities, health care, and consumer staples were the only negative sectors in January.
While it was a good month for U.S. equities, it was an even better month for international. European and Japanese equities were up +8.7% and +6.2% in January. Emerging markets were up almost +8% as Chinese equities rallied almost +12%.
Payrolls surprised again in January and initial and continuing claims dropped throughout the month. The unemployment rate now sits at 3.4%, which is the lowest reading since May 1969. We saw a -0.1% MoM print for headline CPI for December. This reading was driven lower primarily by reductions in oil and natural gas prices.
Real GDP for Q4 came in better than expected at +2.9% quarter-over-quarter annualized vs. +2.6% estimated. However, this reading was lower than Q3 which came in at +3.2%. Personal consumption remained strong for the quarter but the lack of residential investment continued to be a drag on economic growth. The current real GDP estimate for Q1 2023 is +0.7% according to the Atlanta Fed.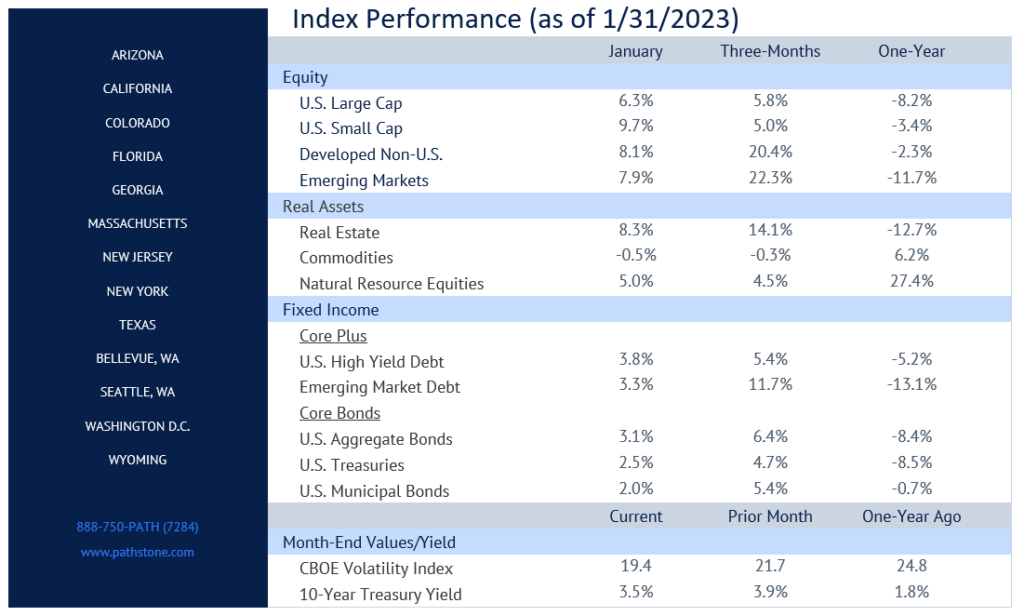 Please see PDF for important disclosures.