Key Takeaways
The highly anticipated Fed meeting brought an interest rate cut of 0.25%, as was expected. This marks the first rate cut in over ten years and comes after nine rate increases since December 2015. Justification for the cut stems from tame inflationary pressures and growing uncertainty over the global outlook.
Chairman of the Fed, Jerome Powell, called the decision a "mid-cycle adjustment to policy" and noted that they do not see a lengthy rate cutting cycle.
Anticipation of easing monetary policy by the Fed and other major central banks has lifted markets this year. The S&P 500 finished the month up an impressive 20% year-to-date and has advanced in six of the seven months this year. U.S. large cap equities were the biggest gainers during July, while international equities fell slightly from weaker data overseas and a strong U.S. dollar.
Increased consumer spending helped U.S. GDP grow at a 2.1% rate in Q2, down from Q1 but still a solid pace. Internationally growth continues to slow, as the Eurozone and China both saw the pace of economic expansion turn lower with global manufacturing facing headwinds from ongoing trade uncertainty.
Representatives from the U.S. and China met to discuss the trade conflict, but both sides seem far away from any true resolution. The next round of talks is set to resume in September, and President Trump has threatened to implement 10% tariffs on the remaining $300 billion of goods imported from China.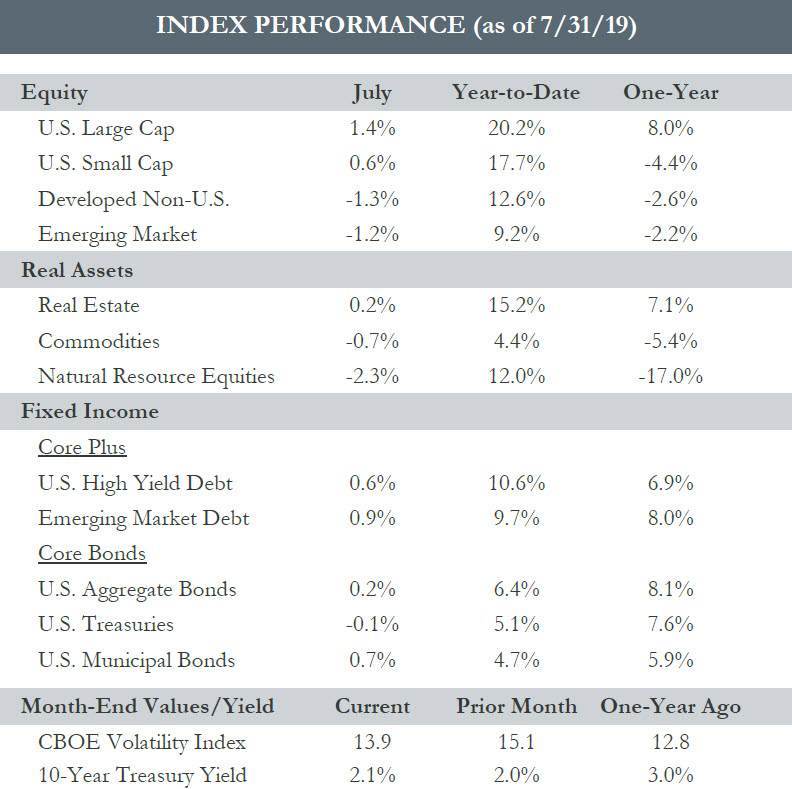 Please read important disclosures in the PDF version of this article.