Key Takeaways:
The U.S. reopening is in full swing as falling COVID case numbers and easing restrictions have allowed activity to resume at a robust pace. The CDC reports that over 60% of American adults have received at least one vaccine dose.
Returns from Developed Non-U.S. equities have been strong, beating their domestic peers during the month. Signs of faster growth in Europe, a weaker dollar, and more cyclical exposure within indices have helped push international markets higher. Value styles across most markets continue to shine with global recovery trends firmly in place.
Markets have largely shrugged off any worries of rising inflation. Interest rates had little reaction to the latest release of the Consumer Price Index, which reflected prices increased by 4.2% on a year-over-year basis. Commodity prices advanced during the month, but the 10-year Treasury yield has stuck trading in a tight range between 1.5% and 1.6%.
Cryptocurrencies showed their true colors in May, with the volatile nature of the digital assets on full display. Bitcoin declined by over 40% during the month as environmental concerns and government scrutiny triggered a steep correction.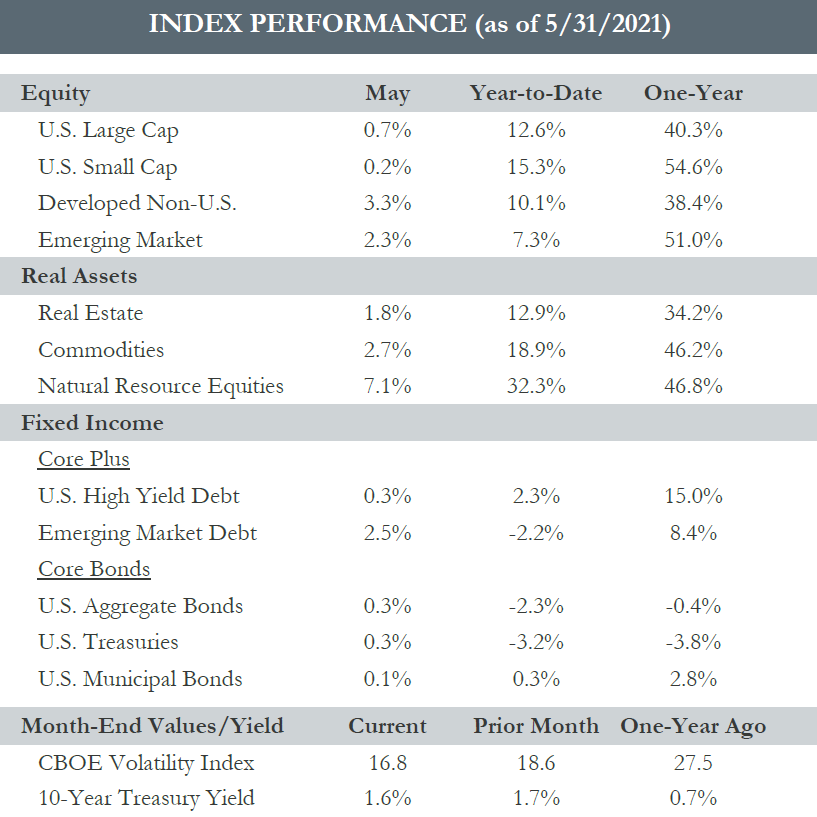 Please see the PDF version of this article for important disclosures.