Key Takeaways:
Global equities surged in November. The MSCI ACWI increased by an impressive 12.3% ― the largest monthly return in the index's history, dating back to 1987.
News of effective vaccine trials kicked off a wave of positive investor sentiment. Powered by cyclical and value style rotations, many indices reached new all-time highs, a notable difference from the tech-fueled rally that drove markets through the majority of 2020.
U.S. Small Caps, Developed Non-U.S., and Value asset classes, the laggards of the year, all benefited from the re-opening trade, as investors began pricing in a more optimistic future.
Not to be overlooked, fundamentals have been strengthening as well. The economic recovery is ongoing, and third-quarter earnings per share for the S&P 500 were impressively down merely 6% year-over-year, while 84% of companies bested expectations.
Concerns over rising virus counts have been more than offset by the vaccine optimism and the passing of election uncertainty. Fed-fueled liquidity and the determination to not derail the economic recovery should help support markets despite the near-term risks, as investors look ahead to the prospect of a post-COVID-19 environment.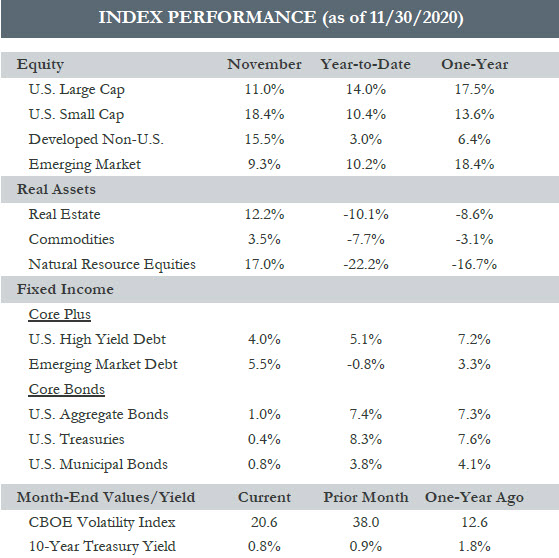 Please see important disclosures in the PDF version of this article.