Key Takeaways
Equities rallied on the back of stronger earnings for energy, staples, and industrial sectors. The S&P 500 and NASDAQ were up 8.1% and 3.9% for the month. However, tech companies are facing an earnings debacle as companies like Meta, Amazon, Microsoft, and Google all dropped nearly double digits after reporting lackluster Q3 results.
Value outperformed growth during the month. Industry bellwethers such as McDonalds, JP Morgan, Exxon, and Caterpillar all had monster months as "old-economy" companies have made a massive resurgence.
Developed International equities had one of their best months of the year and Emerging equities slumped yet again as China is still reeling from its zero-covid policies and real estate issues. Chinese equities are down over -40% YTD.
Core bonds continue to struggle as yields press higher. There has been some chatter that the Fed may slow the pace and size of rate hikes. Longer-duration yields have moderated on the news, but ultimately inflation data will direct monetary policy.
Q3 Real GDP came in slightly higher than analyst estimates at +2.6% QoQ annualized vs. +2.4% estimated and -0.6% for Q2. Net exports provided a boost in Q3 as we saw larger than expected oil and gas exports. However, residential investment continues to be a drag on growth.
The U.S. economy added 263k jobs vs. 255k estimated and 315k in the prior month and jobless claims continue to hover around lows. This helped lower the unemployment rate to 3.5% from 3.7%. Inflation as measured by CPI came in a little hotter than expected at +0.4% MoM vs. +0.2% estimated and +0.1% the prior month. Headline inflation now sits at 8.2% YoY which is down from its peak of 9.1% in June. Business growth and activity metrics have fallen in recent months, but we have yet to see a meaningful decline in inflation despite the rapid upward movement of interest rates.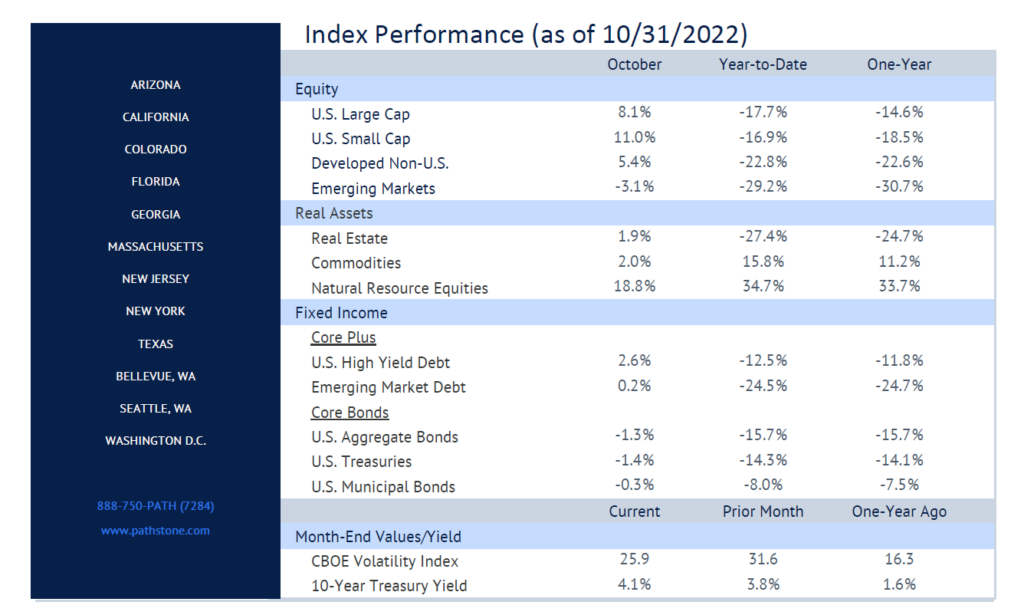 See PDF for important disclosures.