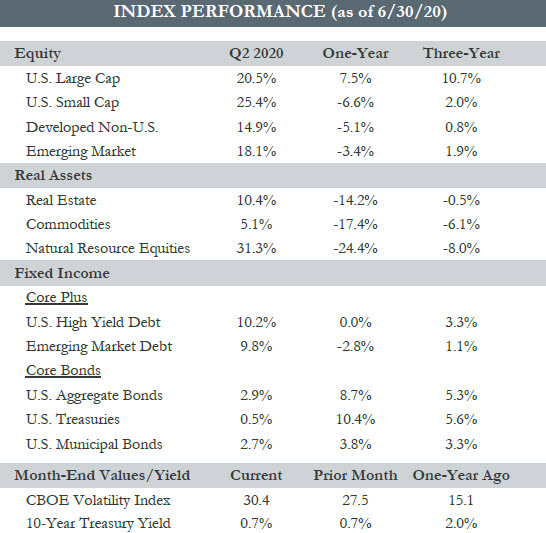 Quarterly Commentary
How can the equity market recover so sharply while there is so much economic disruption and unemployment is historically high?
After the initial shock of widespread shutdowns in March, governments and central banks around the world were quick to lend their support, offering unprecedented levels of stimulus. So far, these measures have been successful in backstopping the economy and settling capital markets, allowing the path towards recovery to begin.
Perhaps most importantly, expanded unemployment benefits have done their job, more than offsetting the lost income caused by shutdown induced job loss. As such, consumer spending, which accounts for ~70% of the U.S. economy, has bounced back sharply, particularly for low-income households.
The companies that comprise the S&P 500 are just a subset of all the companies in the U.S, and the index is not the same as the economy. Over the long term, the two tend to trend in the same direction. Still, it is important to remember that the stock market discounts forward-looking expectations, and activity trends have been increasing since early April.
Not all industries are equal. Peeling back the layers, the sectors that have performed the best and buoyed the index are technology and consumer discretionary — businesses that have benefitted from the current social distancing environment. Cyclical areas of the market — energy, financials, and industrials sectors — have lagged and are down -35%, -24%, and -15% respectively this year.
Reviewing the S&P 500 on an equal-weighted basis, neutralizing the impact of the five largest companies which now account for nearly 22% of the index, returns on a year-to-date basis are -11% vs. -3%. That means the average company is down much more than the headline index suggests.
Just as we have seen in recent weeks, reopening the economy is unlikely to be a smooth process, and we have a long way to go before we get back to "normal."
Equity returns may be choppy in the weeks ahead as investors work to navigate the uncertainty, but the Fed has indicated they will maintain a stimulative approach for the foreseeable future, and fiscal measures can go a long way plugging the holes in the meantime.